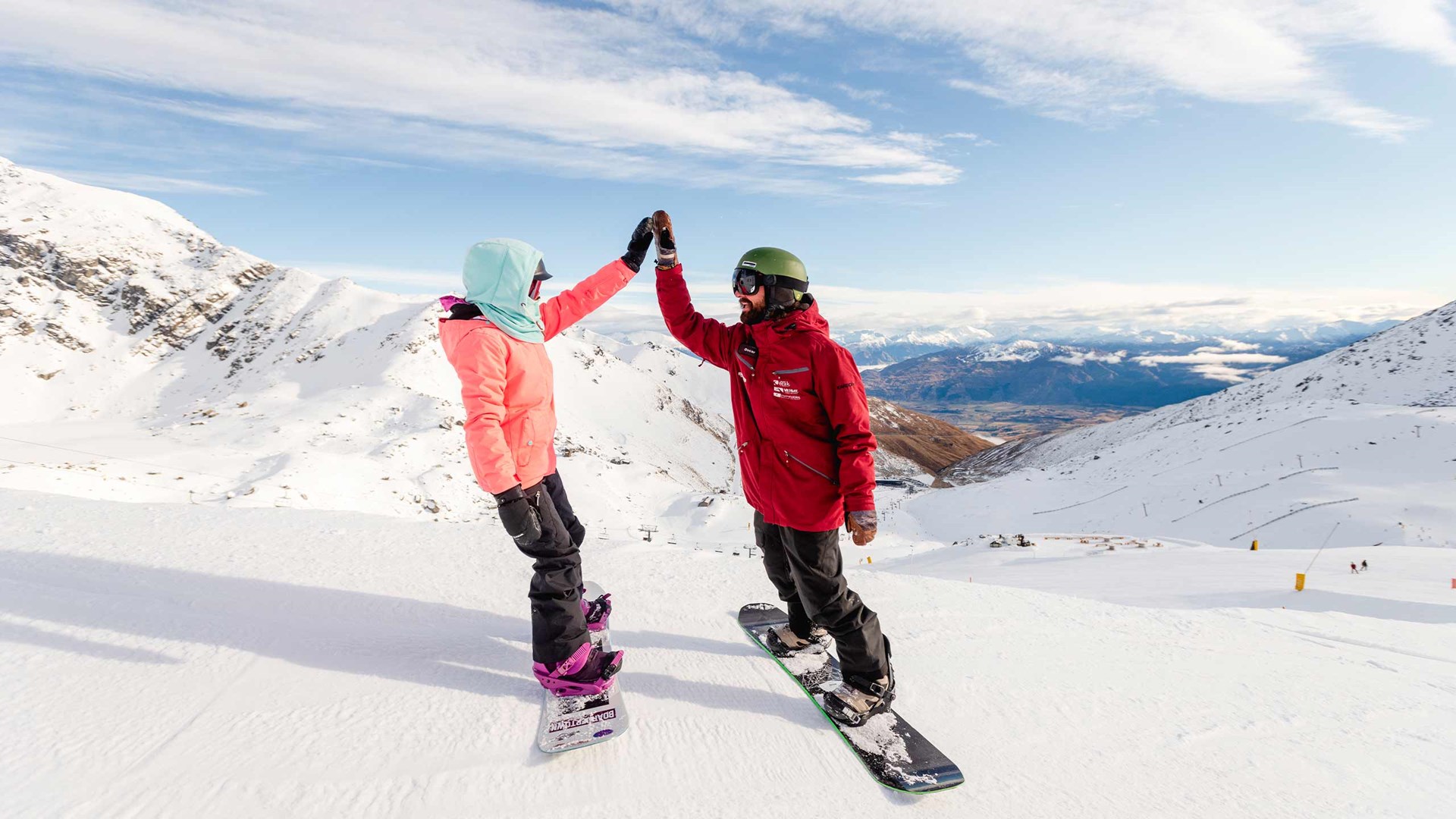 Learn to Ski or Snowboard
First Time On The Mountain
Learn to shred!
You've come to the right place. The Remarkables has a huge beginner area and programs tailored for all ages and capabilities. This allows you to fly past your mates with style and confidence in no time.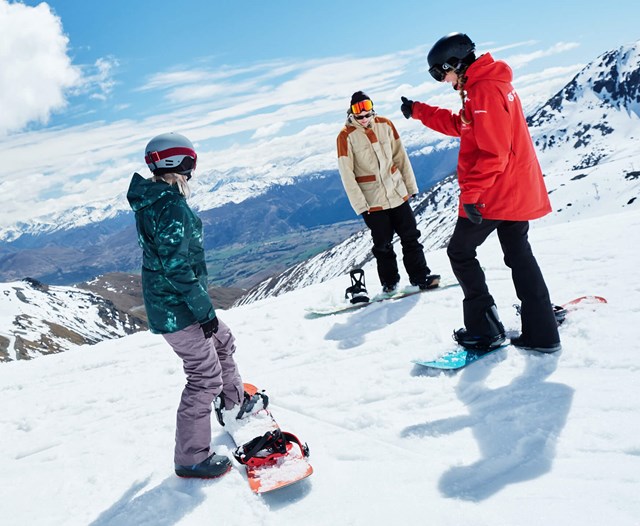 Want to keep up with your mates? Learn a new skill and build your confidence in a safe learning environment with full a day of lessons from experienced instructors.
Includes

Lift Pass

Lessons

Rentals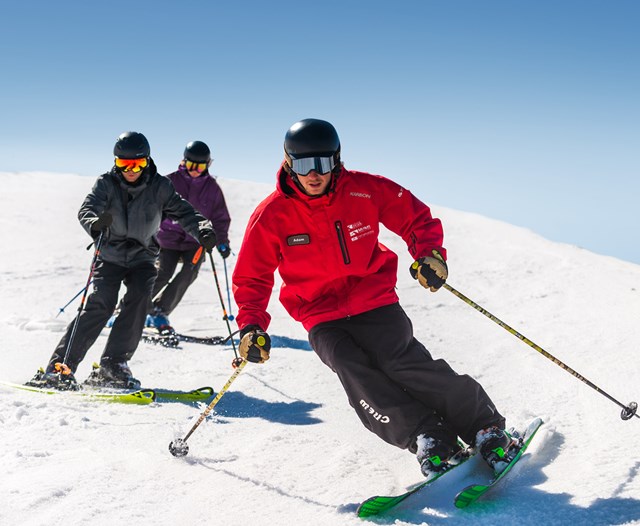 Play Video
Ever wanted to learn how to shred but it was slightly out of your budget? This 4-day package is designed for someone who has never tried skiing or snowboarding but wants to give it a go.
Includes

Lift Pass

Lessons

Rentals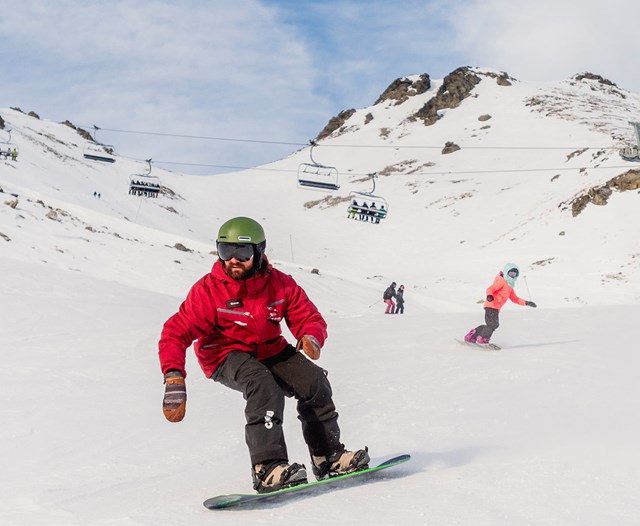 Play Video
We offer a range of lesson options for children ranging from 4 to 17. Our Starter Package is suited for first timers and our lift, lesson and rental caters for children from 4 and up. If you're looking for more advanced coaching see our Performance and Private Coaching options.
Includes

Lift Pass

Lessons

Rental
Getting started is pretty easy at The Remarkables. Visit our friendly team at one of our Snow Centres in Queenstown to organise lift passes, rental equipment, lessons and transport before you head up the mountain. Or if you can't wait to get on the snow, our Guest Services team on the mountain will get you ready.

Please arrive early and allow plenty of time to get from the carpark to the base building, collect your passes and equipment before heading to your lesson.
We're just 24km from central Queenstown on a stunning alpine road. However we know that winter alpine driving conditions can be intimidating, so we also offer an express bus service that departs from our Snow Centre on Duke St regularly as well as a hotel pick up service.

Please allow plenty of time to drive up the road in winter conditions and always carry chains. Once at the top, you can drop your passengers off outside the base building in our drop zone before driving back down the car park.
If this is your first time on skis or snowboard the best place to start is with a lesson from one of our instructors.

Learn the basics and build your confidence. We've got a range of packages for all ages and abilities.
You can hire skis, snowboards, boots, poles, clothing and helmets from us on the mountain. You can also purchase goggles and gloves from our retail shop.

Please dress warm for your first day skiing, it can get pretty cold on the mountain some days, so we recommend layering up with a good base layer of thermals, socks, a mid layer top, sturdy waterproof footwear and waterproof ski jacket and trousers as a minimum. It's warm inside our modern facilities so if you do get cold you can pop inside to warm up.
Your mypass card is your lift pass to ski and snowboard at The Remarkables. You can collect your pass from one of our Snow Centres in central Queenstown or from Guest Services on the mountain.

You MyPass can be used for life and is valid at The Remarkables, Coronet Peak and Mt Hutt depending on what products you have purchased.
FAQS
Is there a beginner area?
The Remarkables ski field has a massive learners area with a perfect pitch to progress and become confident. 3 surface conveyor lifts are dedicated to beginners. This provides ample room for large turns and space to test your limits in a safe environment. Alta chair allows beginners to experience a lift in a safe area away from other riders and skiers.
Rescheduling Lessons
If you are booked into a ski or snowboard lesson and need to change the date your are booked into, please follow the below link to reschedule.

Please note, due to limited capacity, not every date may be available. For private lessons we require 24 hours' notice prior to your lesson time for rescheduling.
What is a beginner lift pass?
A Beginner Pass gives you access to our beginner conveyor lifts at The Remarkables but not the main chairlifts. If you're feeling good and want to give it a go, you can upgrade your lift pass at Guest Services.
How can I hire Ski/Snowboard equipment?
Save yourself the hassle of lugging your gear from town. We have you covered. From clothing to skis, boots, snowboards, helmets and more, we will have you out on the snow, hassle free, in no time! We carry brands such as Head, Burton and Salomon to give you a choice of fit and feel. As you start to progress, you can upgrade from our recreational to performance rentals Hiring your ski or snowboard gear on the mountain means you can take advantage of FREE overnight storage! If your ski's aren't performing well or you think you might have the incorrect sized ski boots, you can take your gear in and get it changed right away, ensuring your comfort and enjoyment. Please be aware that due to health reasons, The Remarkables cannot rent gloves, hats or goggles. However you can purchase these at the Sno Shop.
What do I need to bring?
Preparation is key to have a great day on the slopes, so when you pack for your first trip to the snow, remember to include:
Boots or shoes with a bit of a tread for all family members.
Dress warm! It can be a bit brisk on the mountain so it's important to layer up. Thermals, (merino is a great base layer), a thicker mid-layer top and ski or hiking socks.
Waterproof pants and a jacket are a must to keep yourself dry and to protect you from the changing conditions (rentals are available on the mountain).
No one wants a goggle burn! Sunscreen and lip balm to protect you and your family from the UV rays so you do not end up with a goggle tan.
Eye protection is important, even on cloudy days – and don't forget goggles or sunnies for the kids!
We recommend wearing a helmet on the snow, you can hire one from us or purchase at the retail shop.
Waterproof gloves.
If you forget anything, almost everything you need is available right here on the mountain at our rental shop and the Sno Shop. And if you get hungry or thirsty, we've got you covered at our restaurant and café.
How do I get there?
Escape the hustle below and head up to The Remarkables! The drive is 45 minutes from central Queenstown (24kms away) and you can catch a shuttle up from the Snow Centre or request a shuttle to stop at your hotel in town. Visit our Transport Page for more details.
When is the Ski Season?
The New Zealand Ski Season runs from June to October.
Can I get food on the mountain?
You bet! We've got restaurants, cafes and Ice Bars to keep you fueled up and hydrated for an epic day on the snow.
What time does the mountain open?
The Remarkable is open daily from 9am – 4pm, subject to weather conditions.